Cleats are the most important and essential part of a player's equipment. A close-fitting shoe with correct cleats on the sole is crucial to the player's traction and success on the baseball diamond or the softball field.  Baseball cleats and Softball cleats have no definite difference in the construction of their uppers. Most models are available in a molded cleat,  metal cleat or turf version.
There are a few different Types of Baseball and softball Cleats There are generally three types of cleated baseball shoes. They are:
Molded Cleats
Molded cleats are made of rubber and are usually more comfortable than metal cleats. The are suitable for most natural lawn surfaces. If you play on artificial grass, turf shoes with smaller studs will provide grip on the harder surface without ripping up the turf. Molded cleats usually don't last as long as metal, as rubber is not as durable. The cleats will most likely wear out at the same rate as the upper. For youth that play baseball or softball, molded cleats are the only ones that are allowed to prevent injuries from sliding.
Metal cleats are more durable and provide increased traction due to the ease in which they can dig into the field. The trade-off for more traction is comfort. Because of the hardness of metal, there is much less give or flexibility in the sole of the shoe. In addition, technique is very important as metal cleats are unforgiving. Technique during running and sliding have to be paid attention to or you may cause injury to yourself. Also, metal cleats are used at the adult and professional level of the game. The main reason for prohibiting the metal cleats on younger baseball players is sometimes during sliding or breaking up double-plays, players may step on other players often causing long term injuries and have even been known to end a players season.
Interchangeable Cleats – Cleats can be changed from metal to molded (rubber) by turning screws on the sole of the shoe to release and exchange the installed cleat for a different type.  Screw-in cleats can also be changed to  easily react to the playing surface. Damp, mud-covered fields need deeper penetration for good traction so swapping in the metal cleats will allow for this. Interchangeable cleats can be worn on and off the field, as long as the molded cleats are in use.
For all three models, both synthetic and leather upper options available.
Shopping for Baseball Cleats:
There are many shoe manufactures that make Baseball cleats. Standard or mid height along with standard and wide widths can be found. adidas, New Balance, Nike, Mizuno and Under Armour are some of the shoe manufactures that make Baseball Cleats. Many of the features that are found in the shoes concentrate on comfort.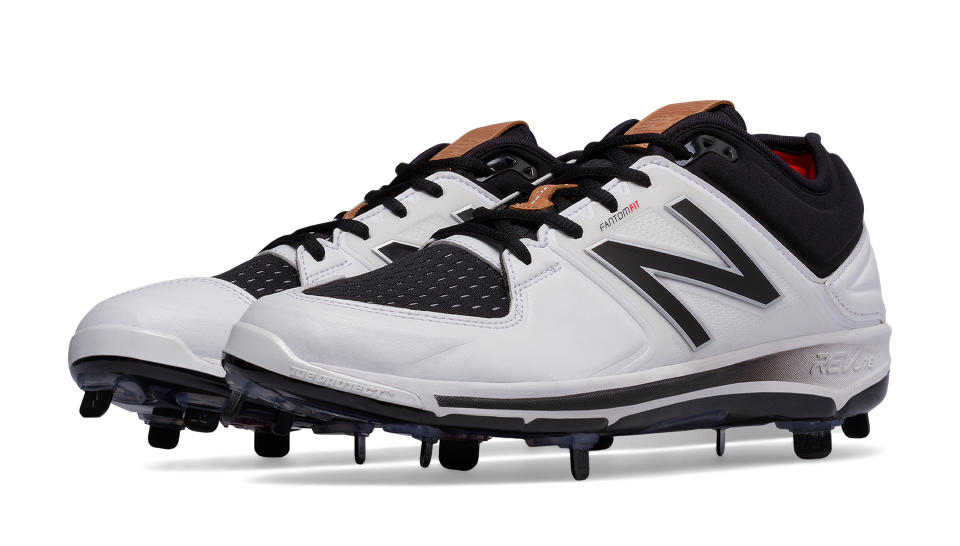 The newly released New Balance 3000v3 Hero Baseball Cleats are known as "a running shoe on spikes" , mainly because the cushioning factor found in the upper.
The  Nike Zoom Trout 3 feature a metallic skin on the upper that allows for a high level of  breathability with light weight.
Mizuno's Heist IQ MX Baseball cleats feature an outsole that enables greater flexibility while providing maximum traction and a lightweight feel.
The Under Armour Deception Low Diamond Tip Baseball Cleats handle comfort from a different angle. The Under Armour DiamondTip cleats combine the comfort features of molded cleats and the traction of metal cleats with a lighter weight that provides the needed traction in the most challenging baseball field conditions.
Avoid the temptation to buy larger sized shoes .A shoe that is big not only interferes with the baseball player's ability to feel the ball and ground. This is even more necessary when purchasing metal cleats as your foot movements need to be more exact to prevent injury because of the increased traction.
**This post contains affiliate links and we will be compensated if you make a purchase after clicking on our links