What Causes Heel Pain And How Your Walking Shoes Can Help
Heel pain has long wrought havoc on both professional athletes and everyday individuals. But what is the cause of that overwhelming (or at least annoying) pain, and how can it be prevented?
While pain of the heel can be caused by a variety of issues, the pain ranging from mild to disabling, there are many methods to fixing the issue. And, if the pain is caused by a bad pair of walking shoes, we'll help you figure out which pair is right for you, too!
There are many underlying causes that can cause pain in an individual's heel, most of which are pretty simple to heal or fix. That being said, if you're experiencing very bad pain, especially over long periods of time, it will be a good idea to see a doctor. Doctors are the best people to diagnose, and recommend treatment, for any sort of pain, bodily issue, or injury.
The most common of these heel afflictions if plantar fasciitis, which occurs when the plantar fascia ligament in your foot is damaged. More often than not, this is caused from excess pressure on the feet and causes both pain and stiffness of the foot and heel.
Issues with the heel and foot can also be caused by sprains or strains. In fact, these injuries are very common, and are often the result of physical activity. The pain from this, depending on the severity of the injury, can range from mild to majorly painful.
Unlike a sprain or strain, a facture is the actual breaking of bone. If this occurs in the foot or heel it can be very painful, and will most likely need immediate medical attention.
Heel and foot pain can also be caused by Achilles tendonitis, which is a condition that occurs when the tendon attached to the calf muscle and the hell becomes inflamed and painful from overuse. This affliction is regarded are very painful, and is seen often in athletes and workout enthusiasts.
Individuals with pain in their heel might also be suffering from bursitis, during which flui-filled sacs called bursaw form around joints. These bursae surround where tendons, skin, or muscle meets bones, and cause a significant amount of discomfort, especially in the ankle and heel region.
It's also possible that the pain is caused by ankylosing spondylitis, which is a form of arthritis that affects the spine and causes severe inflammation. These inflication can cause chronic pain in many areas of the body, including the foot region, and should be taken very seriously.
Finally, there's a chance that heel spurs can cause pain in this region. Heel spurs occur when a calcium deposit causes a bony protrusion under the heel, and are associated with chronic pain and inflammation, especially during walking.
How To Treat Heel Discomfort
Unfortunately, there is no one quick fix for pain in your heel. That being said, there are some at home methods you can try to ease discomfort.
First, you'll want to make sure you're resting your heel as much as possible. You can also apply ice to the area of pain for ten or fifteen minutes, usually twice a day.
Some individuals with this type of pain will take over-the-coutner pain medication to manage, and others use heel lifts or shoe inserts to try and help with the discomfort. Some even opt to wear a night splint, which stretches the foot during sleep, to try and fix the issue.
If none of the above ideas work, you'll most likely have to treat the underlying cause of the pain, which will differ from case to case.
If over-the-counter options and ice don't ease the pain of plantar fasciitis, your doctor will most likely recommend giving a corticosteroid injection to the damaged ligament(s).
Most often, your doctor will take an ultrasound to determine where the injection will be most effective. Sometimes, however, the corticosteroid will be applied to the skin, and then passed into the muscle through a painless electrical current.
It's likely your doctor will also recommend physical therapy.
There are many treatments used for Achilles tendonitis, anywhere from rest and over-the-counter anti-inflammatories, or more invasive options like surgery or other injections.
For general pain management, your doctor will likely recommend the RICE method: Rest, Ice, Compression, and Elevation.
However, in the cases where this option isn't effective, your doctor may suggest surgery to repair the Achilles tendon. Usually, they'll perform open repair, where an incision is made above the heel bone and the two ends of the reputed tendon are sewn back together.
Steroid injections and even platelet-rich plasma (PRP) injections can be used to manage the pain of Achilles tendonitis as well.
Other than the typical rest, ice, and anti-inflammatory over-the-counter medications, there is little to be done to treat bursitis.
Sometimes, your doctor will suggest physical therapy to improve help get rid of bursitis and prevent it from coming back. However, if this doesn't work, injections of steroid medicine can be used to get rid of the condition.
It's very unlikely that surgery will be needed to get rid of the inflamed bursa.
There is no cure of ankylosing spondylitis, but symptoms and pain can be managed, and complications like bone deformity can be slowed or even stopped.
Nonsteroidal anti-inflammatory drugs are often used to manage pain and inflammation, but corticosteroids can be prescribed in the short-term if the pain is unbearable.
Your doctor may also prescribe tumor necrosis factor (TNF) inhibitors to block inflammation triggers sent out by your brain into the body. Through these drugs, joint pain and stiffness can be relieved, and inflammation is prevented!
In severe cases, disease-modifying antirheumatic drugs (DMARDs) can be prescribed to slow the progress of the disease. In turn, this will slow the symptoms from progressing.
Finally, if none of the above help, joint replacement surgery can be used to help.
Treating Heel Spurs
As is typical for heel and foot pain, the most common recommendations to ease pain include physical therapy, over-the-coutner anti-inflammatory drugs, and shoe inserts.
90% of people heal from heel spurs using conservative treatments, but if that's not the case, surgery can be used.
Through this option, the spur is removed, and healing can begin.
Preventing Heel Pain
Now that you know about some of the causes of heel and foot pain, we can go over how to prevent it.
Although the following ideas on how to prevent this type of pain may seem simple, doing these few things can serious reduce the risk of suffering.
First, you'll need to ensure that your shoes are fitting properly and supporting your foot. If you're unsure about whether or not your footwear is fitting well, you can consult a podiatrist (foot doctor) or have your foot sized and fitted at many department stores.
Speaking of shoes, you'll also want to make sure you have the right shoe for the types of activity you usually do. Whether walking, running, biking, or lifting, you'll need a shoe that works for the specific athletic activities you're doing.
Stretching before exercise, while seemingly simple, can seriously help with pain in this region. And, during exercise, pace yourself so you can be sure you won't over-exert yourself.
Maintaining a healthy diet can also help reduce the likelihood of pain or injury to the heel and foot. Having a diet rich in vitamins, minerals, and other healthy substances can keep your bones and joints strong and free of injury or other issues.
It's also important that, when you're tired and sore, you rest your body and muscles. Ankle and heel injuries are often times overuse injuries, and giving yourself ample time to rest between bouts of exercise is the best way to prevent this.
Overweight and obese individuals are also far more likely to suffer from joint pain and other issues, especially in the foot region. Because of this, maintaining a health body weight is a great way to prevent heel or foot pain.
The Best Shoes For Heel Pain
Finally, now that you know how to prevent heel discomfort, we'll now go over the best walking shoes for individuals suffering from this sort of pain.
This shoe, made by the reputable Brooks company, is a great choice for anyone suffering from heel discomfort. Infact, this shoe provides maximum support using the Extended Progressive Diagonal Rollbar (PDRB) system that Brooks utilizes.
This system strategically and accurately positions the shoe's arch support to keep the body in a natural state of motion.
This Brooks shoe also features BioMoGo DNA cushioning, a proprietary Brooks system that adapts to the wearer's stride and reduce impact on the joints.
This shoe is also slip resistant, and the full-grain leather that it's made of is comfortable and durable.
The only con of this product, according to reviewers, is the appearance: it looks cheaply made.
This shoe is lightweight, breathable, and provides a secure fit. Plus, it boasts a soft lining interior that packs in pain relieving VersoShock technology.
In particular, the front toe box of this shoe is extra room, which provides better comfort and blood circulation. And, with a front rocker sole that adds additional midfoot support, rest assured this shoe will help relieve any chronic heel or foot pain.
This shoe also comes with removable insoles, which can accommodate custom orthotic soles and support if you have them.
With a 4.8/5 star review, this is a highly though of product that will make any individuals with hell discomfort happy.
This product is unique because it offers a 60-day wear test upon purchase, which includes a 100% satisfaction guarantee or your money black. Plus, premium orthotic insoles are included in the order, a $30 value for free.
The OrthoFeet Sprint offers a non-binding fit, plus extra room for toe movement and protection against particular pressure points.
Interestingly enough, this shoe also provides a proprietary tie-less lacing system, allowing for fastening the shoes without the need for trying any laces.
Finally, this shoe also provides a protective, soft interior that protects skin against friction and offers comfort.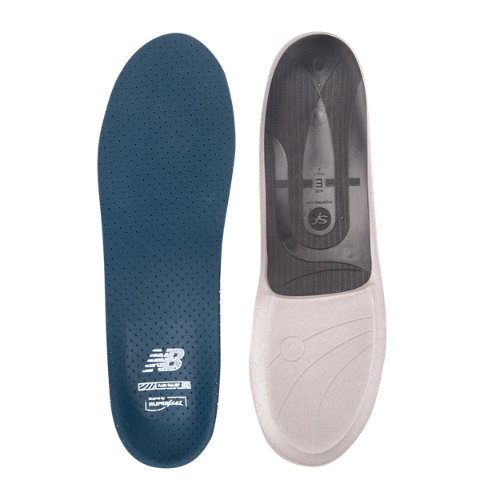 This product, unlike the others on this list, is not a shoe, but rather an insole that can be placed in your shoe.
New Balance is a very well respected brand among workout enthusiasts and professional athletes alike, and this product is a great example of why that is the case.
This insole is made particularly for runners, but can help any individuals who are experiencing heel, ankle, or foot pain. In fact, it could provide comfort for many ailments, including shin splints or other exercise-induced issues.
Additionally, this insole also features moisture-wicking technology, therapeutic cushioning, and a deep heel cup that protects against ground impact.
This shoe, the successor to the Echelon 6, is a great shoe that provides a roomy toe box, a wide and stable base, and an ultra-plush footbed.
More specifically, this shoe can provide relief and comfort for runners, especially those suffering from underpronation, or supination.
Utilizing the proprietary EVERUN topsole construction, a specially engineered mesh, and a FORMFIT contoured footbed, this shoe is a great option for anyone looking to help with their heel or foot pain.
And, if that's not enough, this shoe also features a reflective element on the heel, perfect for anyone running at night and looking to stay safe from any oncoming cars!
Conclusion
By using this guide, you should have a good idea about what causes heel and foot pain, how it can be treated and prevented, and what shoes you can wear to keep your feet happy and pain free for many years to come!